APPcelerate, a special presentation in Anuncios Magazine
The digital and printed publication Anuncios of the group Publicaciones Profesionales has published a double page about the APPcelerate platform, developed by Abacus Consulting. In a special article titled APPcelerate, a solution for the world without cookies, the magazine reports on the presentation of this new tool aimed at media agencies and advertisers.
APPcelerate, a solution for a cookie-free world
With the end of third-party cookies fast approaching, new ways to 'seek out' the consumer are emerging. The APPcelerate technology platform proposes a sophisticated model based on geo-data and mobile signals available to media agencies and advertisers.
The first question becomes almost necessary: What is APPcelerate and what does it bring to geo planning without cookies?
"APPcelerate is the Ad Tech that solves the cookieless challenge. We have built a solution that allows a very high level of knowledge of the consumer from the point of view of their geographical behavior, of their useful information, instead of doing it as it is currently done through their online behavior", explains Alvaro de Gracia, CEO of APPcelerate and its parent company, Abacus Consulting, a reference in the data industry in Spain for its more than 15 years modeling 'geo' data for some of the main brands in this country.
This new proposal anticipates an imminent need as it focuses on the activation of GeoAudiences processed with the help of artificial intelligence and proprietary algorithms, with the utmost respect for user privacy. Because, as De Gracia himself comments, "not only cookies are affecting data limitation, but also privacy regulation, browser restrictions, operating systems, walled gardens and consumers' own actions".
The launch took place last October at the headquarters of The Valley in Madrid at the event 'Bye, bye cookies. Welcome Geoaudiences', introduced by Macarena Estévez, renowned data researcher and disseminator and founder of Círculo De Ingenio Analítico. APPcelerate is designed for end customers, but also to work hand in hand with the entire media and creative agency industry, as well as for outdoor advertising exclusivists.
"They will be able to better understand consumers from the point of view of location and how they behave: see where they live, what they work on, what their family composition is like, what income and expenses they have… All this generates information and data for us," mentions Álvaro de Gracia, who adds:" We enrich audiences, but not only where they are located. For example, also by combining different data sources, we offer highly accurate information related to mobility (how they move, at what time, whether they walk or use any means of transport), events at macro but also micro level (sports, concerts, exhibitions, congresses, local festivals throughout Spain) including the prediction of spectator attendance and the evaluations of the users of these same events. "We operate in a market where accuracy must be the key variable to guarantee the return on our clients' investments. Our approach allows us to understand and know where our target is and how to impact them."
APPcelerate Temple, a revulsive for digital outdoors
Within the platform
APPcelerate
Temple is a specific module for metering and its digital programmatic activation (pDOOH)". It is a solution
The company has a very complete solution because for the first time in the Spanish market, a single technological solution can measure before, during and after the campaigns," says Javier Galilea, Chief Growth Officer of the company.
Regarding the activation of campaigns, the first to connect are Clear Channel with D3CK and soon JCDecaux with VIOOH ", something that has been very
well received by the outside media" and that it is just the prelude because our intention is to connect with the entire DOOH industry in the coming months."
According to Beatriz de la Paz, OOH product manager at GroupM Spain, "we are witnessing a revolution"." APPcelerate is one of the options that come
to emphasize that there is a better way of doing things. Until now, we have had a measurement source that, for years, has been sufficient, but the change in the media paradigm and the irruption of programmatic require new, more sophisticated and precise solutions". For high-proof alcoholic beverage advertisers who cannot activate TV campaigns, the outdoor medium is key to their communication, as Marta Lopez, Addressable & Delivery Ops manager at Dentsu, argues:
"For us it is an opportunity to connect with audiences at the geo level because it allows us to do it in a flexible and effective way and generates opportunities outside the home. These types of platforms come to work the outdoor part that conventional mass advertising does not allow by itself."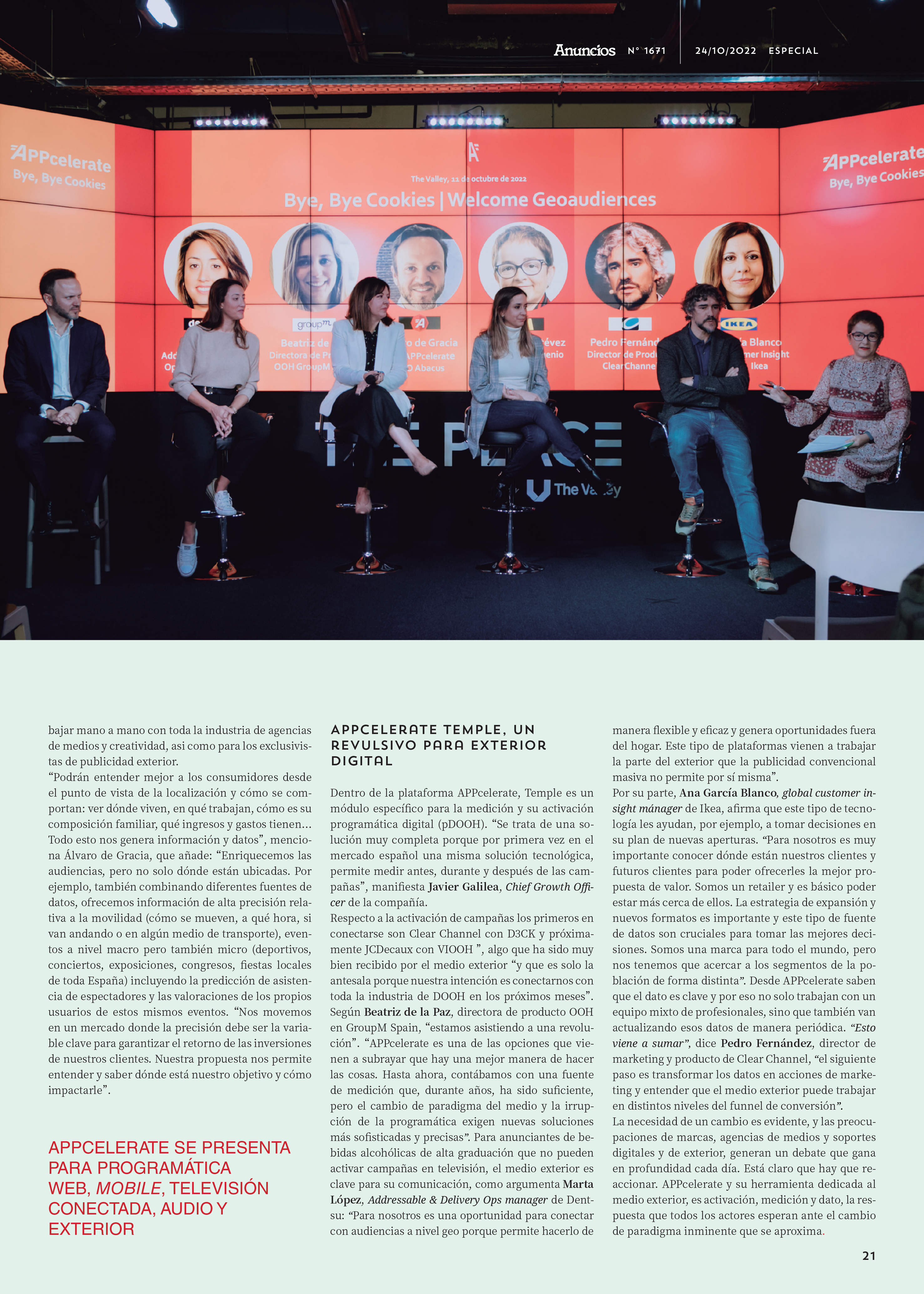 APPcelerate is presented for multichannel programmatic
Ana García Blanco, global customer insight manager at Ikea, says that this type of technology helps them, for example, to make decisions in their plan for new openings. "For us it is very important to know where our customers and future customers are in order to offer them the best value proposition. We are a retailer and it is essential to be closer to them. The strategy of expansion and new formats is important and this type of data source is crucial to make the best decisions. We are a brand for everyone, but we have to approach segments of the population in a different way".
From
APPcelerate
knows that data is key and that is why they not only work with a mixed team of professionals, but they also update this data periodically. "This adds up," says Pedro Fernandez, director of marketing and product at Clear Channel, "the next step is to transform data into marketing actions and understand that outdoor media can work at different levels of the conversion funnel."
The need for change is evident, and the concerns of brands, media agencies and digital and outdoor publishers are generating a debate that is gaining in depth every day. It is clear that we need to react.
APPcelerate
and its tool dedicated to the outdoor environment, is activation, measurement and data, the response that all players are waiting for in the face of the imminent paradigm shift that is approaching.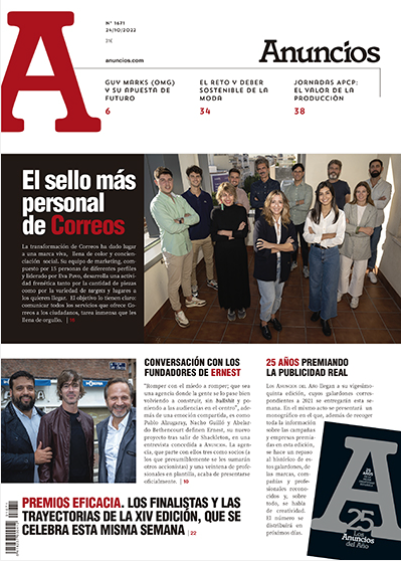 Published in the Anuncios magazine on October 24, 2022.
Number 1671